---
You can't afford to have confusion when it comes to pallet control. What follows uses a carrier as an example but it could apply to almost any business who uses pallets.
We sometimes find that pallets can be lost due to confusion over how pallets are transacted between a company and its trading partners.  A useful tool to get rid of the confusion is to use a simple flow chart.  This does not need to be a complex diagram using sophisticated software tools.  It can be as simple as drawing it on a piece of paper and then have everyone agree on the process.
The following chart has been developed using Microsoft Visio but it could easily have been done in Microsoft Powerpoint or just drawn by hand.
---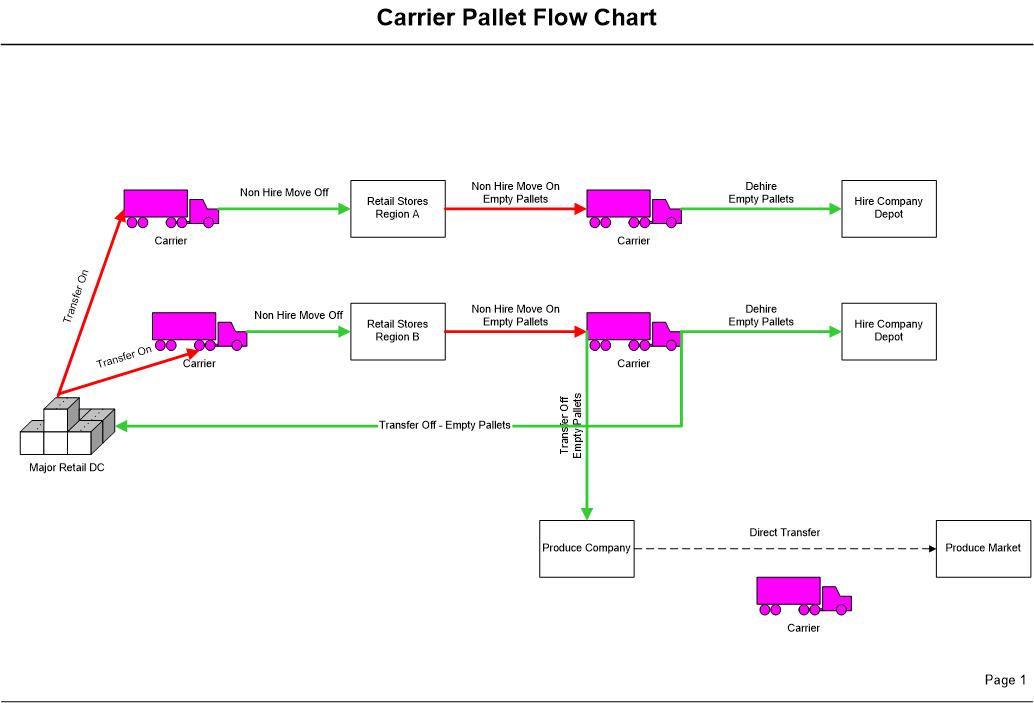 ---
The diagram shows a flow chart from a carrier's point of view.  The carrier undertakes the following:
Picks up pallets from a retail distribution centre for delivery to the retailer's stores in two regional areas.  These pallets are transferred on to the carrier's pallet accounts by the retailer.
The carrier delivers to the stores and either gets empty pallets on a one for basis.  These movements are recorded on the carrier's run sheets.  If the carrier does not get an exact swap then the retail store would provide a docket showing the number of pallets returned to the carrier.
When the driver returns to his depot he gives the pallet controller the retailer's transfer on dockets and the owed pallets dockets.
If using the PalletWatch system the pallet controller uses the data on the runsheets and the retailer IOU dockets to create Non Hire Moves Off and On so that they can keep track of how much each retail store owes.
The empty pallets picked up from the stores can be treated in a few different ways:
– Pallets could be delivered to a CHEP or Loscam depot. In which case the driver would receive a Dehire docket.
– Pallets could be returned to the retailer's distribution centre. The carrier would raise a transer off to the carrier.
– Pallets could be delivered to one of the carrier's other customers. This would save the customer from getting pallets from CHEP or Loscam. The carrier would raise a transfer to their customer.
These charts can expose holes in your pallet control so they are worth doing.  Anyone can draw a chart and you may need to do several of them.