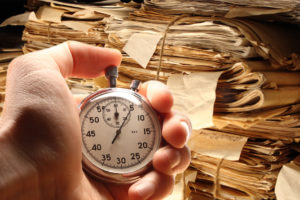 The Realisation
The earlier you realise you have a problem the better.  See our page on Identify Lost Pallets.
Act Quickly
Some companies state that they will not accept claims older than 6 months.  Despite this it is still possible to claim lost pallets even a few years old.  The longer you wait to claim the more difficult it can become to recover your lost pallets.  Lost pallets can have a significant impact on cash flow as every month you are paying for pallets you no longer have.
Documentation
It is important to get your pallet dockets clearly signed by the receiver.  Sometimes a signature may not be enough so try and get the receiver to print their name.  You need to be able to find pallet documentation so a good filing system is essential and, even better, would be to scan your pallet documentation.  The ability to provide a signed pallet docket along with other supporting documentation can go a long way to getting a claim accepted.
Recovery Effort
It is best to have a high intensity, short period in which you attempt to recover lost pallets.  This could be 3-6 months.  In many cases receivers will only accept claims on the date they were first notified in writing of the claim and not the original transfer date.
Pallet hire companies do not usually play a major role in disputes between companies so a recovery effort will be largely something you have to do internally or by using a company which specialises in lost pallet recovery.  These companies usually apply a fixed charge per pallet recovered although sometimes a fixed fee can be negotiated.
Compensation
Pallet hire companies set compensation rates for lost equipment and whilst this increases on a regular basis it is not too difficult to calculate your lost pallet compensation liability.  Pallet hire companies can look at different compensation plans so that losses can be compensated over time.  It is better to start getting lost pallets off your account sooner rather than later.
Pallet hire companies are unlikely to waive compensation or ongoing hire charges.  An ongoing dispute with a trading partner is not going to alter the fact that you are likely to have to pay these costs.  A successful claim on a trading partner may still result in them accepting the claim at a current date which will not cover the period when the equipment was lost.
Recovery After Compensation
Once you have compensated for lost pallets you do not have much time to try and recover lost pallets.  The credit for lost pallets being recovered would be offset by payments to the pallet hire companies for the hire charges which would be applied since the compensation payment was made.
Dispute Resolution
If you have a dispute the actions you take can depend on the relationship your company has with the other party and the value of the claim.
Some options are:
Resolve with the other pallet controller.
Resolve with the other party's management.
Seek assistance from the pallet hire company.  CHEP has a dispute resolution process and Loscam say they will help where they can but often pallet hire companies will say that they cannot do much as it is between trading partners.  Despite this it can still be worthwhile getting the pallet hire companies involved.
The Small Business Commissioner or Small Business Ombudsman can offer mediation services.  This is a low cost option where the CEOs of both companies can be requested to send someone along to a mediation meeting with staff from the Small Business Commissioner;s office.
Legal action.
Whatever option you decide on your chances of success are heavily dependent on acting quickly and having good documentation.